Android Market Updates for All Slots Mobile Casino, New Website and August Winners
2011-10-15 09:53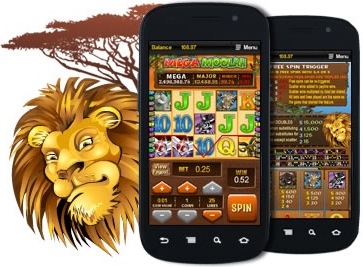 Android Market Updates for All Slots Mobile Casino
Mega Moolah (offering giant jackpot to Android users), Tomb Raider(TM), Mermaid`s Millions and BlackJack join All Slots Mobile Casino are coming to the Android market soon. As usual, all 4 free downloads offer an unbeatable gaming experience, with rich graphics, detailed animations and amazing sound effects. Another Microgaming site - Wild Jack Mobile Casino already has Tomb Raider, Mermaid`s Millions and BlackJack.

All Slots Mobile Casino Website Makeover
Stay tuned for giant improvements to http://www.allslotscasino.com/mobile. Mobile users have ballooned into a colossal segment of internet culture, and they reward sites that are easy to view and understand on their limited screen-space with rapt attention. The new All Slots Mobile Casino site will focus intensely on improving flow for mobile users, taking into account the latest trends.

Mobile continues to grow
The latest stats on mobile are even more eye-opening that we thought. Now that Smartphones have taken over the mobile market and started to replace the desktop gaming in more and more ways. Mobile gaming is definitely on this curve and mobile casinos are offering new platforms.

Apple has sold over 60 million phones, Android has grown a whopping 886% (no that is not a typo) and Mobile gaming is fast turning into a commodity, rather than a luxury. It is clear that mobile is the main force driving how we work, and how we play today.

So many players are leaving their computers for their Smartphones, and expecting no drop in performance. All Slots & Wild Jack Mobile Casinos are developed by Spin3 in partnership with Microgaming, and offer an unmatched gaming experience with rich graphics and immersive sound effects.

Winners for August
All Slots Mobile Casino Winners:
Karan V. won £23,088 on Mega Moolah.
Stine R. hit $5902 playing Mermaid Millions.
Wayne E. won $3211 on Tomb Raider (Web App).
Imhof F. won €2,602 playing Thunderstruck.
Hendrik P. won €2,580 on Tomb Raider (Web App).
Wild Jack Mobile Casino Winners:
Jackie B. hit £1,896 on Thunderstruck.
Helen B. won £1,565 on Mermaid Millions.
Shirley M. won €1,516 playing Mega Moolah.
Tanya P. hit $1,336 on Mermaid Millions.
Holly L. won $1,315 on Thunderstruck.

Related Articles:
• 11 Games Are Launched On HTML5 Web App At All Slots Mobile Casino
• New Android Games And Bonus At All Slots Mobile Casino
• Mobile Casino Gambling Is On The Rise
• New Bonus And All Slots Casino Site For Android
• New Android Air Functionality, Smartphones And Mobile Casino Winners
• Android Air To Be Launched At All Slots And Wild Jack Mobile Casinos
• Crazy Mobile Casino Relaunched
Tags: Mega Moolah All Slots mobile casino winners Android new site
Reviews of Mobile Games:
MOBILE CASINOS

Wild Jack Mobile

Crazy Vegas

Casino Tropez Mobile

Slotland Mobile

mFortune Casino

Royal Vegas Mobile

William Hill CC
Recent Casino News