Coming Soon: Android Air for All Slots Mobile Casino and Wild Jack Mobile Casino. Android Market Apps, October Winners
2011-11-09 09:23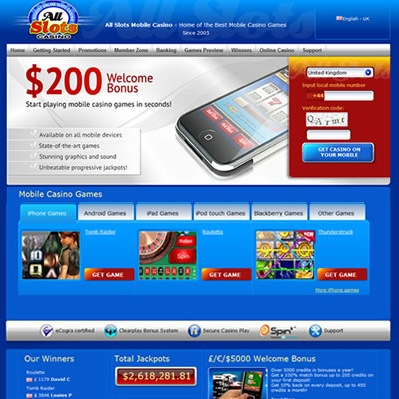 Coming Soon: Android Air for All Slots Mobile Casino and Wild Jack Mobile Casino
Smartphones and smartphone users are getting ever smarter, and leading mobile casinos schedule addition of Android Air in recent weeks, opening up a world of opportunity for Android tablets and other devices.

We`re proud to announce that All Slots Mobile Casino and Wild Jack Mobile Casino, will be releasing the new Android Air platform just in time for the holidays. This Adobe Air-based application offers an enhanced range of mobile casino games designed for tablets and smartphones that run on Android platform.

The new Microgaming`s platform is very user-friendly, with automatic game downloads available via WiFi, rather than 3G. Twelve games will be released with the launch of the platform, with 20 more to follow shortly till the end of the year 2011. With Android-based devices surging in popularity, this application puts All Slots and Wild Jack Mobile Casinos at a distinct advantage in the mobile casino market.

New All Slots Mobile Casino Website Launched. iFrame
The new All Slots Mobile Casino website is now live, with reengineered flow that is optimized for all mobile traffic. The casino will also be launching the new mobile registration i-Frame for both Smartphone and WAP users.

All Slots Native Android Mobile Casino
Check out the latest All Slots Mobile Casino releases on the Android Market: Mega Moolah Progressive Jackpot slot (the casino now features 2 massive progressive slots on Android, along with Major Millions), Tomb Raider and Mermaids Millions 5-reel Video Slots and a very classy BlackJack app.

Coming soon: AUD$, CAD$, SEK, DKK support
All Slots and Wild Jack Mobile Casinos will soon support deposits, play and withdrawals in 4 additional currencies, making it easier to satisfy players from outside the dollar/sterling sphere.

Winners for October
Here are a few lucky players who have hit some hot payouts in October on All Slots and Wild Jack Mobile Casinos:
All Slots Mobile Casino Winners:
Michael W. won $6,616 on Tomb Raider (WebApp).
Louies P. hit $3,846 on Tomb Raider (Native Android).
Ellian H. won $3,260 playing Avalon.
Imhof F. hit €2,826 on Thunderstruck (Web App).
Danielle D. won £2,478 on Thunderstruck.
Wild Jack Mobile Casino Winners:
Jessica L. won £7,489 on Thunderstruck (Web App).
Colin C. won £4,482 playing Tomb Raider (WebApp).
Tanya P. hit $2,500 on Dragon`s Fortune (Web App).
Lisa I. won $1,794 on Mega Moolah progressive (Web App).

Related Articles:
• Mobile Winner Hits Euro 265K Jackpot on New Hall of Gods Slot
• 11 Games Are Launched On HTML5 Web App At All Slots Mobile Casino
• New Android Games And Bonus At All Slots Mobile Casino
• New Bonus And All Slots Casino Site For Android
• New Android Air Functionality, Smartphones And Mobile Casino Winners
• Android Air App From Microgaming
Reviews of Mobile Games:
MOBILE CASINOS

Wild Jack Mobile

Crazy Vegas

Casino Tropez Mobile

Slotland Mobile

mFortune Casino

Royal Vegas Mobile

William Hill CC
Recent Casino News