Mobile Casinos Set to Overtake Online Casinos Within 5 Years
2012-04-19 13:39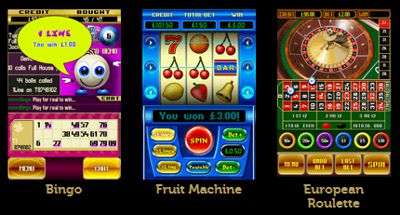 Mobile phone casinos are fast becoming the choice of remote gamblers in comparison to online casinos! After many promised years of industry hype and ambitious forecasts, 2012 is the year which has seen the mobile casino boom finally delivered! Recent industry research confirms that there has been a huge rise in players` bases that are now choosing to use mobile casinos because of their accessibility, playability, ease of use and huge rise in popularity.

For many years however, this simply hasn?t been the case. Mobile casinos, which fall within the mobile gambling category, had repeatedly proved to be a disappointing and a costly false dawn despite repeatedly been regarded as the next "big thing" of the interactive gambling industry. Nevertheless, the years of waiting seem to be over and on the back of some impressive results in 2011 and 2012, it`s clear that the mobile casino boom has finally arrived with a bang.

When assessing the size and scope of the strategic landscape for mobile casinos and gambling on the phones, there are several forecasted projections available from authoritative research houses. Figures presented by Jupiter research group, although perhaps somewhat ambitiously, forecast that the mobile gambling industry could reach worldwide revenues of $48 billion by 2015.

That said however, these projections are based on a number of assumptions which are considered speculative by the general consensus within the mobile gambling industry; for example, the opening market of the Chinese market. The truth is that nobody can exactly pinpoint with any degree of precise accuracy just how far this exciting mobile gambling industry will reach.

Mobile casinos vs. online casinos - accessibility rules!
Based on several casino player studies, mobile casinos hold several distinct and attractive advantages over online casinos when considering accessibility factors. According to the Office of National Statistics, there are a significantly higher proportion of mobile phone and tablets owners compared to desktop or laptop computers. Furthermore, when analysing the usage of mobile phones compared to personal computers or laptops, there is again an interesting bias which suggests a mobile phone is usually significantly more accessible and within easy reach from the user at all times, whereas a personal computer or laptop is far less likely to enjoy the same accessibility.

There are also technological aspects to consider. The nature of a mobile phone allows the user to be playing mobile casino games within seconds, compared to that of a sometimes arduous process that may be taken when accessing an online casino. For instance, it could take several minutes to start up a computer, load up the internet and security software, and then login to the casino service provider. In a recent casino player study, the ability to access and play mobile casino games within 20 seconds on a mobile device was deemed as a positive and significant motivating factor for players.

There is also an additional and interesting area when considering mobile casinos vs. online casinos, which is that of internet access. According to recent studies, mobile internet has opened up a vast new market altogether, introducing individuals to the internet for the first time. Although not applicable for the vast majority, for a large section of certain markets, there remains a certain stigma attached to using as computer, being computer literate, and also internet transaction phobia.

However, with the increase in accessibility of mobile devices and in particular the access of mobile internet and social networking sites, a mobile phone has subtlety transmigrated previously inaccessible consumers, to accessible and loyal mobile casino players. It is questionable whether a personal computer or laptop could truly complete this same feat.

Perspectives for Players
It`s a traditional adage and no secret that players are at the heart of any business; mobile casinos are no exception. According to several casino player studies, there are a number of key factors that are driving the mobile casino boom. A principal driving factor identified is the ability to play a mobile casino anytime, anywhere; the ability to login and play casino games within 20 seconds; and the game play, graphics and player experience are now on par, if not superior to an online casinos offering.

When these 3 factors are added together, it is easy to understand why the proposition of a mobile casino is becoming far more attractive to players. It is also easy to understand why mobile casinos in the near future, look set to overtake their counterpart, the online platform.
Related Articles:
• New Android Games And Bonus At All Slots Mobile Casino
• 3D Mobile Gambling for iPhone in the Future
• New Android Air Functionality, Smartphones And Mobile Casino Winners
• Crazy Mobile Casino Relaunched
• New All Slots Mobile Casino Site, Games And Winners
• Platinum Play Mobile Casino Has A Complete Makeover
Tags: Mobile Casino Gambling
Reviews of Mobile Games:
MOBILE CASINOS

Wild Jack Mobile

Crazy Vegas

Casino Tropez Mobile

Slotland Mobile

mFortune Casino

Royal Vegas Mobile

William Hill CC
Recent Casino News