All Slots Mobile Casino And Wild Jack Mobile Casino Presents New Dragon Fortune Slot And Recent Winners
2009-09-10 06:06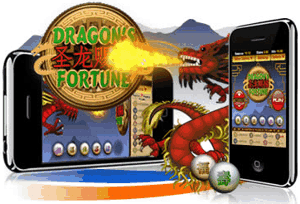 Dragon Fortune - Now at All Slots` Mobile Web Application
Dragon Fortune is now the 17th game on All Slots` mobile web application. This is a six-panel instant-win card, in which the player is required to match two symbols to win. After the player selects a bet amount, six colored balls fire from the dragon`s mouth. If 2 balls match, the player wins and the payout is displayed at the top of the game screen. If no balls match, the game is over and the player can play again.

Get the Best of Both Worlds with All Slots Mobile Casino
With the proliferation of advanced mobile phones featuring more functionality than ever, mobile phone use is growing by leaps and bounds. At the head of the pack in the casino world, All Slots Mobile Casino`s WAP and Web applications offers unparalleled opportunities for players in all areas both online and mobile, Web or WAP, to play and win.

Since its launch in December 2008, All Slots Mobile Casino has experienced significant growth, quickly becoming one of the world`s leading mobile casinos. Powered by Microgaming (Spin3 software), All Slots Mobile Casino supports over 1,400 mobile devices for on-the-go gaming excitement with 17 vibrant games from mobile casino gaming leader Spin3.

For users of mobile web applications such as the Apple iPhone, iPod Touch, or Google Android devices, All Slots Mobile Casino`s web application bridge the gap between the online and mobile casino worlds, bringing the online casino to a totally new player market. The application takes full advantage of touch-screen technology, and operates in both the upright or widescreen orientation. All Slots` mobile web application features 7 exciting games, which are fully hosted so there is no need to download games to get started.

ALL SLOTS? MOBILE WEB APPLICATION FACTS:
Brings a real Internet experience to mobile.
No screen size or browser constraints.
The iPhone is LEADING the traditional device market.
Utilize ONLINE marketing tools just like any other online casino.
From lobby to game in just TWO clicks.
Unrivaled user experience.
Works on BOTH 3G\EDGE networks and Wi-Fi.
Hot August Winners at Wild Jack Mobile Casino
Wild Jack Mobile Casino congratulates two lucky players who hit sizeable payouts this August playing on their cell phones. Ryan A. won £4,275 on UK`s most popular slot - Thunderstruck and Samantha B. won £2,106 on Tomb Raider (TM) in her second day at the casino!

Wild Jack Mobile Casino is also in the process of updating its WAP site for a more user-friendly experience. Mobile players can now download games directly from the home page. Playing your favourite casino game on your mobile handset is now just one click away...

Related Articles:
• Mobile Winner Hits Euro 265K Jackpot on New Hall of Gods Slot
• New Android Games And Bonus At All Slots Mobile Casino
• New Android Air Functionality, Smartphones And Mobile Casino Winners
• Android Air To Be Launched At All Slots And Wild Jack Mobile Casinos
• New All Slots Mobile Casino Site, Games And Winners
• Mermaids Millions Slot On Wild Jack Mobile Casino`s App For Android
• Jacks or Better Arrives On All Slots Mobile Casino`s Web App

Tags: winners new games slot machine Dragon Fortune all slots wild jack
Reviews of Mobile Games:
MOBILE CASINOS

Wild Jack Mobile

Crazy Vegas

Casino Tropez Mobile

Slotland Mobile

mFortune Casino

Royal Vegas Mobile

William Hill CC
Recent Casino News