Hall of Gods Mobile Slot Pays Out €265,548 Jackpot Within Weeks Of Release
2017-03-08 17:32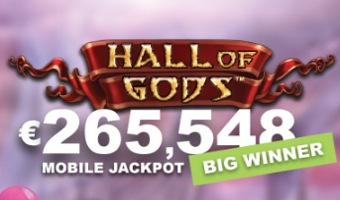 The Hall of Gods mobile slot launched only a few weeks ago, records it`s first jackpot winner as Amanda walks away with €265,548 in cash.
For Amanda, the dream of new Porsche came a reality, when on Sunday 5th of March, she walked away with one of the 3 progressive jackpots in the Hall of Gods mobile slot at Vera&John.
Amanda wasn`t in the frame of mind to face that reality just yet. She turned to her boyfriend, stared into his eyes, touched his arm lightly, and said in soft husky tones "Hey, wanna play slots?"
Amanda didn`t have a huge budget, but was happy to spend a little to get that quick big gambling thrill. Her small ?10 deposit turned into a fortune!
She mostly only plays casino on mobile, so whilst she knows of the Hall of Gods slot, it wasn`t till it showed up on the mobile slot selection a few weeks ago, that it caught her attention.
With a €10 deposit, playing €1 a spin, you`d think that she`d only have 10 spins to make on this great jackpot slot game. But this Hall of Gods game is surprisingly giving, especially with that expanding wild in the base game, paying out far more often than you`d think.
So it was a little while later, after a fair amount of spins, that she suddenly noticed a congratulation message popping up on her screen.
She thinks to herself? Cool, guess I`ve won €265!?... so she takes one more spin of the reels as if nothing had happened.
And then... it hit her. It was actually the excitement of having won over 200 thousand in cash that kept Amanda and her boyfriend up all night.
Was it real? Will they get cash? If they do, what will they spend it on? If they don`t, who can they talk to?
It wasn`t until the next day, when the Vera & John customer services agent contacted Amanda to confirm the good news, that she finally believed it was real.
First, they straight away booked an amazing luxury trip to Thailand. Because when you`re a big casino winner, the first thing you want to do is blow a little money of it and celebrate!
Next they will be buying a brand new Porsche. They just haven`t decided on the colour yet...
Related Articles:
• New Android Air Functionality, Smartphones And Mobile Casino Winners
• Android Air To Be Launched At All Slots And Wild Jack Mobile Casinos
• New All Slots Mobile Casino Site, Games And Winners
• Mermaids Millions Slot On Wild Jack Mobile Casino`s App For Android
• Jacks or Better Arrives On All Slots Mobile Casino`s Web App
• Experience The Legend Of Avalon On Mobile With New Slot
Tags: Winners Hall of Gods Mobile Winner