Nokia N95 Smartphone Named Top Mobile Gaming Device 2009 Again
2009-05-29 12:16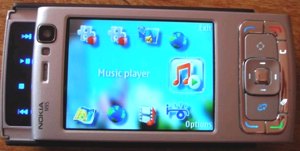 Mobile gaming is convenient, easy and highly entertaining. Gambling on-the-go is everything an avid gamer would want, so the market is rising fast. But what handsets are the best suited to this fairly new technology? Mobile players said the Nokia Smartphones that`s topping the list in multiple polls.

Mobile gaming firm `Probability` named the Nokia N95 the top of the list for mobile devices being used by players. These statistics were based on registration numbers at their mobile casino site during the months of January through March, 2009.

Probability found that over 5,000 different phone models were being used by gamers to play some of their favourite mobile casino games. Other phones making the top of the list include the Samsung SGH F480 in second place and the Sony Ericsson K800i, previously in first place and now in third place of the list.

Surprisingly the Nokia handset beat out Apple iPhone`s hugely successful model for the top spot! Probability`s Chief Executive Charles Cohen noted that the market is very broadly-based for mobile casino gaming and that it`s not only about the latest gadgets. The study also showed that users are doing more with their feature-rich mobile phones than just finding a phone number online or playing Pac-Man.

Probability Plc is a London-based developer, manager and operator of gambling services and technology for the mobile market. They offer an integrated portfolio of casino, bingo and slot games on over 1,700 different models of mobile devices. They offer all the casino classics any avid gamer could want including traditional Roulette, Blackjack, Video Poker, Bingo, Slots and more.
Related Articles:
• New Android Air Functionality, Smartphones And Mobile Casino Winners
• Wild Jack Mobile Casino Launches New Application For iPhone And iPod
• Nokia N95 Is The Best Phone for Mobile Gambling At Slotland
• Across Lite Mobile For Smartphones, Crosswords
Tags: Nokia N95 Smartphone Mobile Gaming Awards
Reviews of Mobile Games:
MOBILE CASINOS

Wild Jack Mobile

Crazy Vegas

Casino Tropez Mobile

Slotland Mobile

mFortune Casino

Royal Vegas Mobile

William Hill CC
Recent Casino News