Play Crosswords Wherever You Are - Across Lite Mobile For Smartphones
2006-11-17 05:03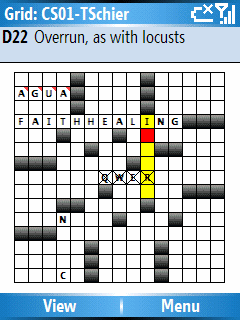 All Mobile Casino released the official mobile version of Across Lite, the premiere online crossword solving program with an intuitive interface that shares puzzle files across multiple platforms. The official Across Lite crossword solver for Smartphone that allows you to complete crossword puzzles anytime, anywhere.

Across Lite Mobile is designed to minimize distractions and make puzzle-solving as enjoyable as solving on paper. At the same time, the use of a computer (Pocket PC or smart phone) allows for several convenience features that solving on paper cannot provide.

Unlock NY Times puzzles, Across Lite Mobile is the only mobile crossword solver able to unlock locked Across Lite puzzles!

The software is compatible with all Windows Mobile 5.0 for Smartphone and Windows Mobile 5.0 for Pocket PC. All the features of the Pocket PC version, not a cut-down version.

Features
Intuitive grid traversal and letter entry procedures.
Bundled with 40 crossword puzzle to get you started. More available from the Internet.
Fully supports the Across Lite puzzle format. Reads all .puz crossword files.
Pen and pencil mode to indicate degree of confidence in solutions.
Automatic tracking of clues with movement on grid.
Partial or full solution checking options.
Partial or full solution revealing options.
Unlock locked puzzles, ideal for solving NY Times puzzles.
You can download Across Lite Mobile from the BinaryFish website for a fee of $18.95. You can also find 14 mobile casino games that can be played for free on your smartphone or java-enabled cell phone. You have to pay for download only and play as much as you want.

Related Articles:
• New Android Air Functionality, Smartphones And Mobile Casino Winners
• Wild Jack Mobile Casino Launches New Application For iPhone And iPod
• Nokia N95 Voted Top Mobile Gaming Device In 2009 Polls
• 14 Mobile Games In All Mobile Casino 3.0.5 Version
• Free Minesweeper Game For Smart Phones

Tags: Crosswords Smartphone All Mobile
Reviews of Mobile Games:
MOBILE CASINOS

Wild Jack Mobile

Crazy Vegas

Casino Tropez Mobile

Slotland Mobile

mFortune Casino

Royal Vegas Mobile

William Hill CC
Recent Casino News