As Technological problems Of Mobile Gambling Are Almost Eliminated Online Casinos Move To Mobile Gaming
2008-11-21 08:17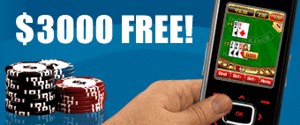 During the recent 2 years, members of the online casino gambling industry have anticipated cell phone gaming as the next wave in the business and predicted its exponencial growth. Nevertheless, the jump in mobile gaming has never quite met the expectations. But some or most of the reasons customers haven`t made the move to mobile phones as a source of gambling venues have been removed right now.

Gaming industry executives at the 5th Annual Mobile Gambling Summit think signs are getting better for the long-awaited explosion in Internet gambling on personal cell phones and PDAs. Bet365, Ladbrokes, William Hill, and Rank Group have signed deals with mobile software provider Mfuse to offer mobile solutions for their customers. Mfuse founder Charles Palmer says, "We are developing casino and bingo applications for launch next year and we see real evidence that users are very enthusiastic about mobile gaming."

In most perspective markets technological problems which held mobile gaming back have been largely eliminated today. Getting speed at levels that gave acceptable playability for modern casino game applications has only recently been accomplished. The quality of individual phones was a problem, until the releases of Apple`s iPhone and BlackBerry`s Storm, as well as other so-called iPhone killers from major mobile handset manufacturers.

Matt Welch, an expert on mobile poker software, says, "We now have a 0.2 second delay for a decision in poker, which is pretty much the same speed as online. 4 years ago that delay was 16 seconds, which meant a hand of poker could take as long as 20 minutes. Obviously no one wanted to play at those speeds."

Another factor has been the familiarity of the audience with the cell phone devices. Only now is a generation that uses the full potential of mobile phones reaching legal age to gamble. Previous ages are simply not as comfortable exploring the realms the phones have opened.

Perhaps the lingering difficulty for online casinos to expand into the mobile gambling market are the laws in the United States. The UIGEA of 2006 and other troublesome anti-Internet-gambling laws on States` level have effectively blocked the world`s largest mobile phone market from the gaming industry. U.S. phone companies would be certain to prevent any gambling websites from accessing their customers.

While gaming industry experts see a continued rise in Internet gaming on cells, expert a true boom in the market once the new Congress and administration begin fixing the online gambling laws to regulate and legalize the industry. Second largest UK market is strong and demonstrate a steady growth.
Related Articles:
• New Android Games And Bonus At All Slots Mobile Casino
• Mobile Casino Gambling Is On The Rise
• 3D Mobile Gambling for iPhone in the Future
• New Android Air Functionality, Smartphones And Mobile Casino Winners
• Crazy Mobile Casino Relaunched
• New All Slots Mobile Casino Site, Games And Winners
• Platinum Play Mobile Casino Has A Complete Makeover
Reviews of Mobile Games:
MOBILE CASINOS

Wild Jack Mobile

Crazy Vegas

Casino Tropez Mobile

Slotland Mobile

mFortune Casino

Royal Vegas Mobile

William Hill CC
Recent Casino News