How To Start Playing Online Casino Games At Casino Tropez Mobile
2008-06-27 07:27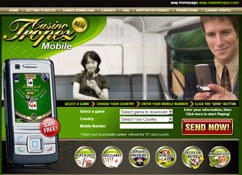 Mobile casino games now are incredibly simple to download and great fun to play as mobile gaming gives you the freedom to play whenever you like, wherever you like. Here are 8 simple steps on how to start playing through your mobile phone at 2007`s Best Mobile Gaming destination - Casino Tropez Mobile.

1) Simply choose the game you want to download onto your mobile phone handset from the Casino Tropez Mobile website either online or through your mobile phone`s WAP application. See direct download links for separate games on our WAP site.

2) The message "Application source unknown. Continue" may appear on the screen. Click "Yes" / "OK"

3) Then you`ll receive a display message with the details of the game you have downloaded. Once you have accepted the details, the game will automatically download to your mobile handset.

4) You will then be shown where the game has been saved to on your phone.

5) You can then open the application. Once the game has opened, you will be asked whether you would like to open a REAL MODE or PRACTISE MODE account. Existing members can simply put their existing Online Casino Tropez account details into the handset to log in. New member to the casino must open a new user account. We advise you registering an account right now with online casino Tropez and use it on your mobile handset OR personal computer. The online casino offers up to $/£/€3,000 free in welcome bonuses for new players.

6) Accept the terms and conditions and using your mobile keys, enter the required information into the phone display.

7) Once all your details have been entered, you`ll be directed to the login page - please note that username & password are case sensitive!

8) "Allow network access?" will then be displayed on your screen - select "Yes" / "OK" and start playing and enjoying Casino Tropez Mobile!


New to Casino Tropez Mobile is the Refer A Friend offer. This is a new promotion that allows you to invite your friends to join in the mobile gaming fun - and receive rewards for doing so! To refer your friends to Casino Tropez Mobile, simply visit the casino website and fill in the short form. It only takes a minute to refer your friends and everyone who joins is a winner. For every friend you refer that opens an account at the casino, you will receive $50 and as an extra welcome gift, your friend will also receive $25!

How do I know if my mobile phone is compatible with Casino Tropez Mobile?
It`s easy to see whether you can play games through your mobile phone handset. Simply visit the Supported Phones section on the Casino Tropez Mobile website and choose your mobile handset brand from the list on the left hand side of the screen.

Players who wish to download the mobile games should have the following features in their mobile devices. Handsets must be Java-enabled and the device must be GPRS and internet enabled. If you can see your mobile handset on the screen, then it`s possible to download all games onto your mobile handset.
Related Articles:
• Batman Mobile - Playtech and Warner Bros. Team Up For Exclusive DC Movie Slots
• Playtech Goes Mobile With New Applications
• Austrian Player Wins EUR27,000 On Desert Treasure Slot At Mobile Casino Tropez
• Nokia N95 Voted Top Mobile Gaming Device In 2009 Polls
• WAP Mobile Gaming Still On The Rise In Popularity
• Playtech Profits Grow, Mobile Gaming Is The Fastest Growing Niche
• Mobile Mania at Casino Tropez - Great Bonuses
Reviews of Mobile Games:
MOBILE CASINOS

Wild Jack Mobile

Crazy Vegas

Casino Tropez Mobile

Slotland Mobile

mFortune Casino

Royal Vegas Mobile

William Hill CC
Recent Casino News