Review Of Blackjack Tropez Blackjack, Mobile Game
Gaming software: Playtech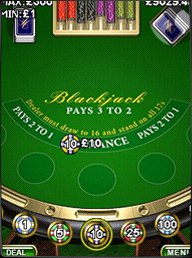 An all-time favorite Casino game, Blackjack is played against the Dealer. There are two ways to win: beat the Dealer's hand or making the Dealer's hand burst. The decks form a shoe and the entire shoe is shuffled before each game. The dealer is forced to stand on all hands of 17, and blackjack beats any hand of 21 value. You can apply standard Playtech strategy charts as a guide to this game.

Insurance Rules
You are offered the option of placing an Insurance bet whenever the Dealer is showing an Ace. The Insurance bet equals to half of your initial bet. The Insurance bet pays out at odds of 2:1. In case the Dealer actually is not holding a Blackjack, you forfeit the Insurance bet.

Blackjack Rules in Brief
Dealer must draw to 16 and stand on all 17 (hard and soft).
Player's Blackjack pays 3 to 2.
Insurance pays 2 to 1.
You can double down on any 2 cards.
You can only split aces once. Only one card dealt to split Aces.
On a double, if dealer first card is Ace and has blackjack, you lose both hands.


Play Blackjack Tropez Blackjack game at:
Casino Tropez Mobile

(Casino Review)
William Hill Casino Club

(Casino Review)
WAP Download Link of Blackjack Tropez
Reviews of
Similar Games:
MOBILE CASINOS:
Mobile Gaming News: