Review Of Blackjack Party Blackjack, Mobile Game
Gaming software: Party Casino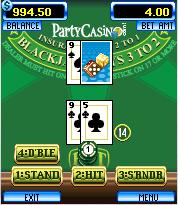 Party Mobile Casino offers a version of Vegas Downtown blackjack game. The objective of Blackjack is to accumulate a hand with a point total as close to 21 as possible, without going over 21. The value of a hand is the sum of the point counts of each card in the hand. The cards from 2 through 10 are valued as indicated. The value assigned to other cards is as follows:
An Ace counts as 1 or 11: If scoring 11 would cause hand value to exceed 21 (or 'bust'), an Ace will count as 1.
Soft total: A hand containing an Ace that can be counted as 11 without the total going above 21. For example, Ace-6 is soft 17.
Hard total: A hand containing an Ace that can be counted as only one because counting it as 11 would make the hand go over 21 ('bust'). For example, Ace-6-10 is hard 17.
If the first two cards dealt are an Ace and any 10-point card, it is known as blackjack (or 'natural blackjack'), and is an automatic win for the player at 1.5 to 1, unless the house ties.
Game Rules in Brief:
The minimum bet is $1 and the maximum bet is $200 (the initial bet of the game).
8 decks are used in the Las Vegas Downtown version of Blackjack. Each deck has 52 cards.
The deck is shuffled after 10% of the cards in the decks are used.
The dealer draws a card on soft 17.
Player's Blackjack is paid 1.5 : 1.
Up to 3 splits are allowed.
The number of cards that can be dealt to the player is limited only by choice (click on 'Stand') or by the hand total being greater than or equal to 21.
If the dealer has a 10, Jack, Queen, or King as the up card it is possible he has a blackjack, in which case your hand will lose, unless you also have a blackjack. The dealer will check for blackjack immediately if one is possible.
The Insurance option is offered to you in case the dealer has an Ace as his first card. The insurance bet pays 2:1.
The Surrender option is also offered after the dealer has checked to see if he has a blackjack. Surrender is allowed only on the first two cards.
You can Stand at any time, if you are satisfied with your hand - the dealer will complete his hand and your hands will be compared. Click Hit to be dealt the next card.

Double: If the first two cards dealt to you total nine, 10 or 11, an option to 'double' will be displayed to you. Upon selection the bet amount is automatically doubled, and you will be dealt one more card. The hand will auto-stand after the next card is dealt. Doubling is also available, subject to having 9 to 11, as an option after splitting. If you lose the bet, you lose the entire bet, the initial bet, and the additional bet amount placed for the double option.

Split: If you have two cards of the same value (for example two two 9s, a King and a Jack, etc), you can 'Split' the cards into 2 separate hands. This option is also available if you are dealt 2 Aces as your first two cards. An additional bet (equal to your original bet) is automatically placed. You are only allowed to split once, even if more splitting opportunities arise. You may draw as many cards as you wish on each split hand, with the exception of splitting on Aces. If you split Aces, only one card will be dealt to each split hand. If a 10-point card is dealt to either Ace, the hand is counted as 21, not blackjack.

Insurance: Insurance is offered on the dealer's Ace to insure your hand against the dealer receiving a blackjack. It costs 50% of the bet amount, in addition to your initial bet. If the dealer gets a blackjack, the insurance bet pays 2:1. You lose the initial bet. If the dealer does not get a blackjack, you lose the insured bet, and the game continues for the initial bet amount.



Play Blackjack Party Blackjack game at:
Party Mobile

(Casino Review)

Reviews of
Similar Games:
MOBILE CASINOS:
Mobile Gaming News: