Slotland Online Casino Games For Apple iPhone
2007-07-05 17:55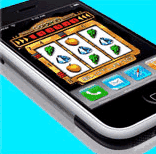 Popular online and mobile casino Slotland, that offers unique slots and video poker games with unprecedented compatibility, has announced that, unlike most other gaming providers, its mobile and Internet games do work on the new Apple iPhone.

The new iPhone was unveiled last week but has been designed to run with only the Apple applications. As a consequence, it does not support software from most mobile and online casino gambling providers and operates mainly as a web browser. Apple`s latest invention also does not allow players to download and install their games nor does it support Java and Flash based applications.

"Like the iMac, Safari is the Internet browser built into the iPhone," commented John Lancelot, Mobile Games Manager of Slotland casino. "Officially, no third-party applications will be allowed to be installed on the Apple device so the web browser will likely be the only way to access casino games on an iPhone."

Slotland, one of the earliest pioneers in mobile gambling, has developed casino-style games based on html/xhtml technology rather than Java or Flash and will therefore be one of the few casinos that will work on the new iPhone.

"Slotland has always been one of the few online casinos that really worked well on MAC and web television browsers and, for the same reason, they`ll be the only ones to work in customized trimmed-down browsers like the one in iPhone," added Lancelot.

"Like a lot of people, we`ve been waiting for the iPhone for a long time because it has higher resolution, better quality, more graphical features and the touchscreen is going to be great for playing slots."

Today Slotland casino offer 6 great slots, video poker and blackjack games for mobile devices (cell phones, smart phones or PDA). All existing players on the online casino can download free Slotland`s games from WAP website and use their existing login and password to play on their handsets. Slotland`s mobile casino games are compatible with virtually every phone model and provide a simplified alternative for iPhone users. Players of web casino Slotland may choose from 13 unique games.
Related Articles:
• Alien Spinvasion! New Mobile Slot At Slots Capital and Desert Nights
• Batman Mobile - Playtech and Warner Bros. Team Up For Exclusive DC Movie Slots
• 11 Games Are Launched On HTML5 Web App At All Slots Mobile Casino
• 3D Mobile Gambling for iPhone in the Future
• Ladbrokes Casino Is Now Available On The iPhone
• More iPhone Casino Games Apps Launching Soon On Jackpot City Mobile
• Wild Jack Mobile Casino Launches New Application For iPhone And iPod
Tags: Apple iPhone Slotland iPhone
Reviews of Mobile Games:
MOBILE CASINOS

Wild Jack Mobile

Crazy Vegas

Casino Tropez Mobile

Slotland Mobile

mFortune Casino

Royal Vegas Mobile

William Hill CC
Recent Casino News