The New 21 BlackJack Party Game Combines Social Networking Features With Spin3`s Award-Winning Mobile Casino Software
2010-03-03 06:52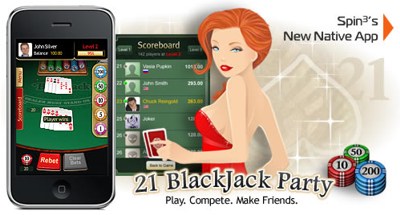 Spin3 has entered the Apps market with the launch of 21 BlackJack Party, its first play-for-fun native App game for the Apple App Store. The new game brings Spin3`s state-of-the-art technology from the mobile casino world to players, with additional skills and community features.

Leading full service mobile gaming solutions provider Spin3, powered by Microgaming, the world`s largest online gaming software provider, has announced the launch of 21 BlackJack Party, its first game for the Apple App Store.

Spin3 has developed one of its most popular games for the growing iPhone applications market, which consists of over 100,000 apps with more than 3 billion downloads. 21 BlackJack Party is Spin3`s first step into the consumer applications market and represents a new direct-to-consumer approach for the traditionally business-to-business provider of turnkey mobile casino solutions.

21 BlackJack Party is the first Blackjack game app to offer a community element within the game, tracking the players` skill level and uploading their scores to a live scoreboard. The scoreboard introduces a competitive element to the game by enabling players to track their progress against other users at their level. Players will be able to check the scoreboard online through the 21 BlackJack Party microsite (best viewed on your iPhone web browser) and will be notified whenever anyone enters or exits their level.

21 BlackJack Party utilises the full functionality of the iPhone with tap and slide movement and advanced graphics. The play-for-fun game enables players to create a personalised profile that appears when the game is launched and next to their score on the live scoreboard. The server-based game saves each player`s ranking and balance. Even if players need to close the game mid-hand, the game is saved enabling them to return at exactly the same point that they left.

Matti Zinder, Head of Spin3, said, "The free-to-download game is designed to establish our presence in the app world. The decision to launch Blackjack on this new channel arose from the explosion in the apps market. Mobile application downloads are expected to reach five billion by 2014, which is a staggering number. Companies such as Zynga have made the transition to the applications market with its Texas Hold `em game and it`s been a huge success. Our new application will soon be available free-of-charge on the Apple App Store with new games and exciting new developments to follow. We are also looking closely at the Android market as another terrific opportunity. Our 21 BlackJack Party application will also be available on the Android Market for Android powered devices very soon.

"Our vast experience and technological knowledge in the mobile gaming industry has enabled us to develop a high quality game with advanced graphics and ease of gameplay. By utilising our back office and CRM tools which enable us to include advanced features such as community elements and tournament gaming now and in the future, I think we`ve developed a game that can match or surpass Zynga`s success."

21 BlackJack Party is launching on the Apple App Store soon and will be available at Spin3 powered mobile casino sites: 32Red Mobile Casino, All Slots Mobile, Crazy Vegas Mobile and more. The 21 BlackJack Party microsite is best viewed on your iPhone web browser.

Spin3 will be demonstrating a pre-launch version of 21 BlackJack Party on its stand at Mobile World Congress #7C34 in the App Planet zone.

About Spin3 (www.spin3.com)
Spin3, a division of Spiral Solutions Ltd., has partnered with Microgaming, the world`s leading developer of online gaming solutions, to provide turnkey solutions for the mobile gaming arena. The complete offering includes dynamic wireless real and play-for-fun casino systems, flash casino, marketing services and innovative technologies that push the interactive gaming industry to new frontiers.

About Microgaming (www.microgaming.com)
Since the company developed the first true online Casino software over a decade ago, it has led the industry in providing innovative, reliable gaming solutions. Thanks to an unrivalled R&D programme, that averages 60 games per year and a unique `partnership` approach to working with operators; Microgaming powers 120 of the world`s most profitable casino sites. The company`s front and back-end software supports multi-player, multi-language games - over 400 of them, all uniquely branded and provides platforms for land-based and wireless gaming. The Microgaming Progressive Jackpot Network is the world`s largest progressive and has paid out a record $290m.
Related Articles:
• Saturday Night Takeaway at 32Red Casino in March
• Alien Spinvasion! New Mobile Slot At Slots Capital and Desert Nights
• New Rival Mobile Slot Dollars to Donuts To Launch At Slots Capital And Desert Nights
• Batman Mobile - Playtech and Warner Bros. Team Up For Exclusive DC Movie Slots
• New Android Games And Bonus At All Slots Mobile Casino
• Mermaids Millions Slot On Wild Jack Mobile Casino`s App For Android
• Mega Moolah Slot Hits 32Red Mobile Casino
Tags: BlackJack Party Spin3 New Game iPhone Apple Blackjack All Slots
Reviews of Mobile Games:
MOBILE CASINOS

Wild Jack Mobile

Crazy Vegas

Casino Tropez Mobile

Slotland Mobile

mFortune Casino

Royal Vegas Mobile

William Hill CC
Recent Casino News