The count-down begun - All Slots Mobile Casino and Wild Jack Mobile Casino on iPhone and iTouch In December
2008-11-30 07:33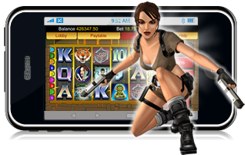 We are proud to announce the upcoming launch of All Slots Mobile Casino & Wild Jack Mobile Casino on the iPhone and iTouch this December 2008.

This is really exciting news for all mobile casino players as, according to the statistics reported by Apple, a full 39% of Apple`s business is made up by the iPhone, making Apple the 3rd largest mobile phone supplier in the world (behind only Nokia and Samsung). As monumental as the growth on the mobile hardware front is, things are looking just as good on the software end. By September of 2008, Apple had pushed over 100 million application downloads to their iPhone and iTouch users.

About the games and the casinos
Wild Jack`s and All Slots mobile casino games have been specifically designed for the iPhone mobile digital devices and, in fact, all mobile devices. The casino games make use of razor-sharp graphics and advanced in-game effects enabling users to play either horizontally or vertically, and these improved mobile games feature touch screen controls. Eliminating the need to download and install the games, the instant-play casino games are fully hosted and accessed via the iPhone and iTouch`s build-in Web browser and optimized for the corresponding screen resolutions.

Both All Slots Mobile Casino and Wild Jack Mobile Casino feature 14 Spin3/Microgaming powered games on the JAVA application, of which the 4 most popular will be offered on the iPhone and iTouch platform, namely Blackjack, Roulette, Tomb Raider(TM) and Major Millions.

Be ready for the launch, visit one of the casino websites and download free gaming software for your iPhone. Visit Wild Jack now.
Related Articles:
• 11 Games Are Launched On HTML5 Web App At All Slots Mobile Casino
• New Android Games And Bonus At All Slots Mobile Casino
• Mobile Casino Gambling Is On The Rise
• New Bonus And All Slots Casino Site For Android
• New Android Air Functionality, Smartphones And Mobile Casino Winners
• Android Air To Be Launched At All Slots And Wild Jack Mobile Casinos
• Crazy Mobile Casino Relaunched
Reviews of Mobile Games:
MOBILE CASINOS

Wild Jack Mobile

Crazy Vegas

Casino Tropez Mobile

Slotland Mobile

mFortune Casino

Royal Vegas Mobile

William Hill CC
Recent Casino News