Hold`em Poker Masters And Poker Tournaments On Mobile Phones
2007-10-13 11:43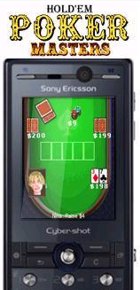 Casino games, and poker games in particular are booming and growing in popularity. Furthermore, they`re finding their way into mobile phones which more and more resemble the ideal of a mini-console in the range of graphics and technique.
Hold`em Poker Masters is supplying casino mood to the mobile owner, with Texas Hold`em Poker being a very popular version of the gambling card-game that is often offered in land-based casinos. This variant is played with five cards exposed and laid in the middle of the table. They can be used by every player to achieve a poker hand.
Three virtual characters share a poker table with the player and open the round with $200 each.
Players can show to their opponents that they are the best and accumulate the opponents` chips. There is just one winner here - the one who will win Master Tournament. Before playing in the tournament you have to win the qualification - your opponents will make it hard.
Within the high quality mobile game developed by Inlogic Software the player is able to gamble and risk high stakes to his heart?s content. Hold?em Poker Masters is offering fantastic entertainment with various features and casino quality to go. It can be downloaded to mobile phone at www.zelfi.com/en/mobile-games/games/poker-hold-em-master/ for €4,99 (plus data communication fees of your network provider).
Zelfi AG
CEO: Andreas Berg
Hechtsheimer Str. 33
D-55131 Mainz
Germany

Telefon: +49 6131-9064850
Telefax: +49 6131-9064853

info@zelfi.com
www.zelfi.com
About Zelfi
The Zelfi public limited company is a start-up located in Mainz (Germany) being actively involved in the fields of Mobile Marketing and Mobile Entertainment by providing software products. The development and the service of a Mobile Marketing platform is their core business. This innovative technology-platform forms a nodal point of mobile phone users, mobile phone software developers and advertisers.
Tags: Poker Tournament Hold`em Poker Masters Poker Mobile Game